Renewables are on the rise in the United States
Today, the United States produces more than 3 times as much energy from the sun, the wind and the earth as we did just a decade ago. Learn more about how clean energy is growing and what we can do to accelerate clean energy growth.
Clean energy is booming in the United States. 
According to "Renewables on the Rise 2023," the seventh edition of our annual report on the state of clean energy in America, the United States now generates nearly 12 times as much solar power and 2.6 times as much wind power as it did in 2013. 
Taken together, the United States got nearly 17% of its electricity from solar, wind and geothermal power in 2022. That's up from just over 5% in 2013. Fourteen states produced the equivalent of more than 30% of the electricity they used from solar, wind and geothermal in 2022. That is up from just two states in 2013.
This incredible growth will be key to achieving our vision of a clean energy future — one in which we can all live greener, healthier lives in a world powered solely by clean, renewable energy.
Renewables On The Rise Dashboard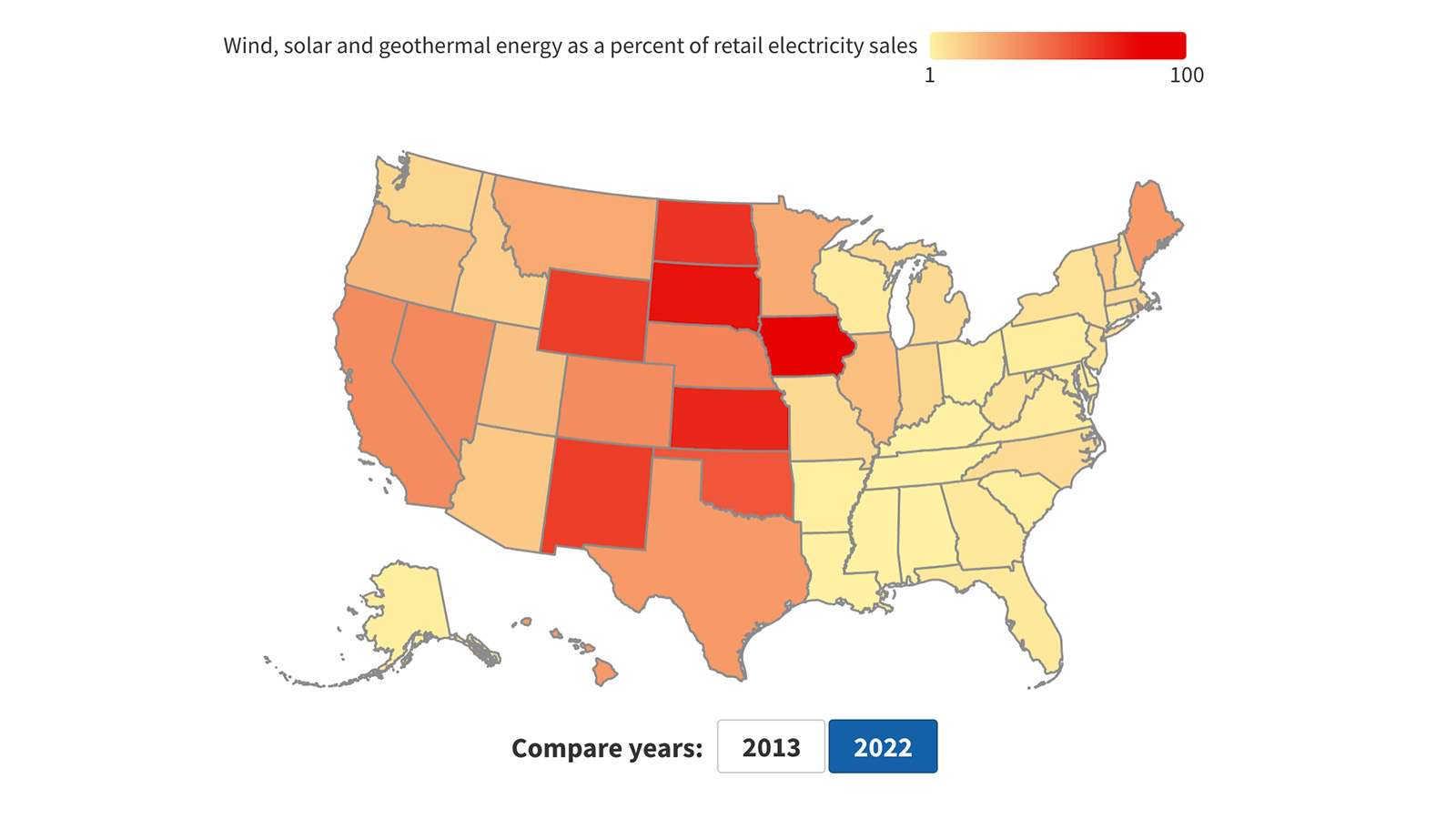 Renewables On The Rise Dashboard
Let's take a closer look at how far we've come in the last decade.
America's clean energy growth
Our report looked at progress across several types of renewable energy and clean energy technologies — all of which will be needed to repower our state and country with clean, renewable energy. Here's how the United States did as a whole:
Wind energy:

The United States produced enough wind energy to power nearly 41 million typical homes in 2022 –

2.6 times as much wind energy as in 2013.

Solar energy

: The U.S. produced enough solar energy to power 19 million homes in 2022 – nearly 12 times as much solar energy as in 2013.

Electric vehicle sales

: Americans bought more than 925,000 plug-in electric vehicles in 2022 – a more than 10-fold increase from 2013

Electric vehicle charging ports:

The number of electric vehicle chargers nationwide exceeded 151,000 – a nearly 18-fold increase from 2013.

Energy savings:

Energy efficiency improvements installed in 2021 will save 300 terawatt-hours of power over their lifetimes – enough to power 28 million homes for a year.

Battery storage capacity:

The U.S. had 8.9 gigawatts of

battery energy storage

at the end of 2022, 60 times as much as in 2013 and 85 percent more than at the end of 2021.
What's next for clean energy in the United States?
We can keep renewable energy rising by taking advantage of the opportunities right in front of us. 
For example, there are more than 100,000 big box superstores in this country with flat, open, sunny rooftops just begging for solar panels.
The rooftops of America's big box stores and shopping centers have the potential to generate 84.4 terawatt hours (TWh) of solar electricity each year, equivalent to the amount of electricity that would power almost 8 million average U.S. homes. That's about as much electricity as it would take to power 35 midsize American cities — and it would cut annual greenhouse gas emissions equivalent to taking more than 11.3 million gas-powered cars off the road.
As an added bonus, producing electricity on rooftops close to where the electricity will be used makes the grid more resilient to outages and disruptions, and it reduces energy losses that happen during electricity transmission and distribution.
Through our Solar on Superstores campaign, Environment America and our national network are calling on big box stores to set ambitious goals to install solar panels on their rooftops. Add your name today!
Topics
Authors
Senior Director, Campaign for 100% Renewable Energy, Environment America
Johanna directs strategy and staff for Environment America's energy campaigns at the local, state and national level. In her prior positions, she led the campaign to ban smoking in all Maryland workplaces, helped stop the construction of a new nuclear reactor on the shores of the Chesapeake Bay and helped build the support necessary to pass the EmPOWER Maryland Act, which set a goal of reducing the state's per capita electricity use by 15 percent. She also currently serves on the board of Community Action Works. Johanna lives in Amherst, Massachusetts, with her family, where she enjoys growing dahlias, biking and the occasional game of goaltimate.